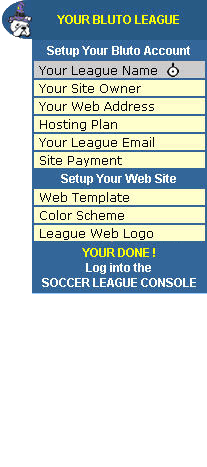 INTIMIDATED BY BAFFLING INTERNET TECHNICAL TERMS?


With the BLUTO wizard, you can establish a sophisticated web site in minutes by answering a few simple questions using our interview format. We'll even track your progress with a convenient status bar. We've taken all the steps you need to implement a professional web site and broken them down using the Wizard to take the mystery out of web site deployment. You'll also be able to implement some of the most advanced web functions available - like cookies, web analytics, advanced web communications and promotional selling - WITHOUT EQUIPMENT, DEVELOPERS OR SOFTWARE!
The BLUTO WIZARD MAKES WEB DEPLOYMENT so easy that even the novice computer user can be on the internet in minutes. After you've set up your web site account,  you're web site is instantly listed online.*
<== The wizard tracks your progress showing you each step that's complete

 and in progress

. And when you're complete, you're on line! Then you'll log in to Bluto and complete your organization setup- adding your products (for Business) or league structure (for Sports Leagues and Associations).