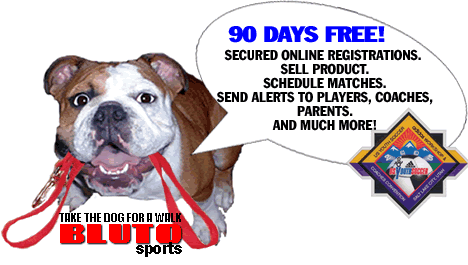 Evaluating Sports Management Solutions for your Organization?
Why not 'take the dog for a walk'?
For all of 2005, we're offering prospective sports organizations the chance to try Bluto for FREE for 90 days.*
You'll enjoy all the features over 2 million users have come to expect - like secured Online Registration, Player, Team and League Statistics and Standings, Text Alert Messaging, Site News, Team Photo Galleries and much more!
We'll establish your web site, organizational hierarchy and registration form within 24 hours to get you started so you can try Bluto with your own organization's information - then take 3 months to show it off to your Administrative Board, Teams, Coaches or Captains AT NO COST.

We think that if you give Bluto a try, you'll see how easy it is to manage your Association, Club, League or Team on the Web.
Ready to take the 'dawg' for a walk? CLICK HERE
* Credit Card Transaction Fees still apply.